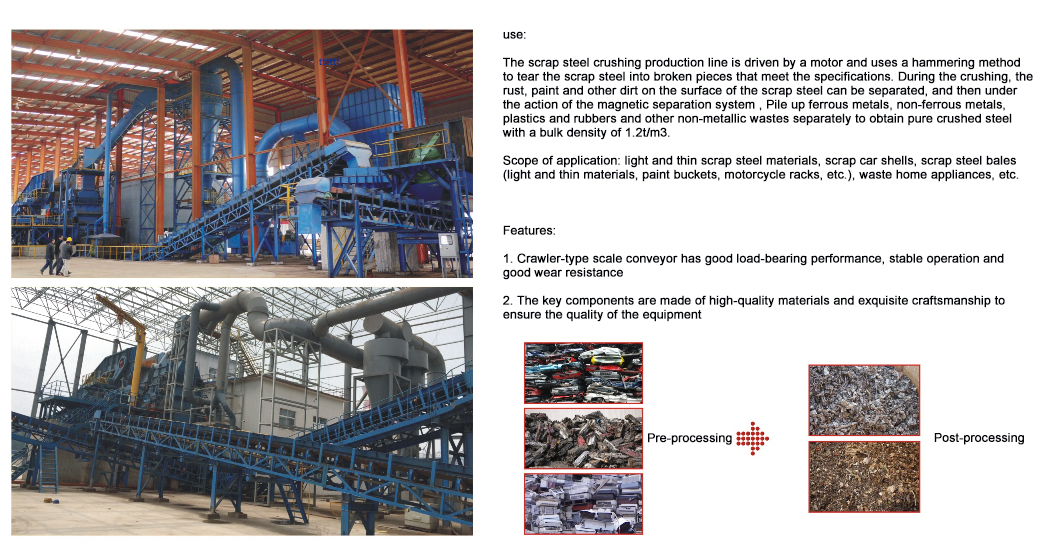 use:
The scrap steel crushing production line is driven by a motor and uses a hammering method to tear the scrap steel into broken pieces that meet the specifications. During the crushing, the rust, paint and other dirt on the surface of the scrap steel can be separated, and then under the action of the magnetic separation system , Pile up ferrous metals, non-ferrous metals, plastics and rubbers and other non-metallic wastes separately to obtain pure crushed steel with a bulk density of 1.2t/m3.
Scope of application: light and thin scrap steel materials, scrap car shells, scrap steel bales (light and thin materials, paint buckets, motorcycle racks, etc.), waste home appliances, etc.
Features:
1. Crawler-type scale conveyor has good load-bearing performance, stable operation and good wear resistance
2. The key components are made of high-quality materials and exquisite craftsmanship to ensure the quality of the equipment
3. Environmental protection equipment such as shock absorption, noise reduction, dust removal, etc.
4. Imported sorting equipment, higher sorting efficiency
5. Adopt information and network technology. Establish a remote management and maintenance platform to conduct intelligent analysis and monitoring of equipment operation
Function:
It is designed to shred the dirty and light scrap steel into small pieces pure and with high density. HUBEI LIDI Shredder Plants are equipped with different processing capacities from 5 - 10 TPH up to 300 -400 TPH.
Shredding range: 0.5mm-18mm (scrap steel thickness available to shred)
Shredded density: 0.8-1.8kg/m³
Shredded purity: 99.9%
Shred power: 600HP-11000HP
Shred capacity: 5-300 TPH
metal shredder for sale australia
Cases of related products: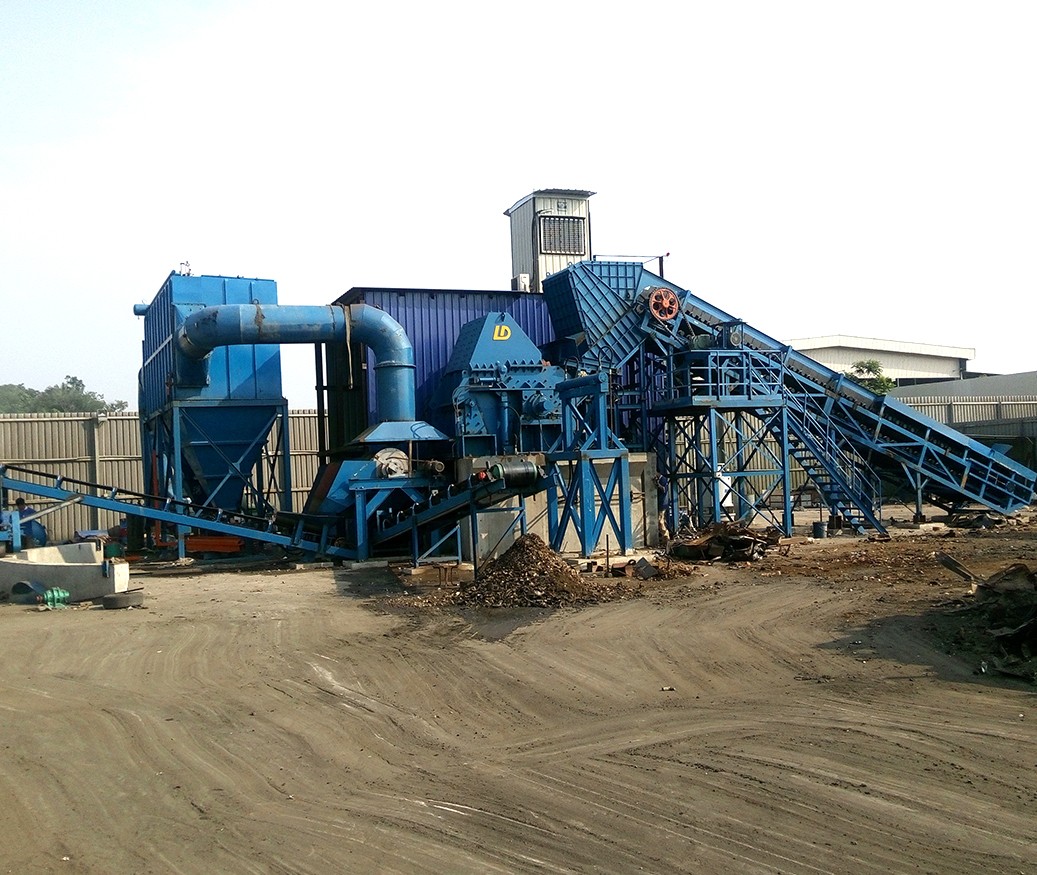 PSX-607o Series Site Shooting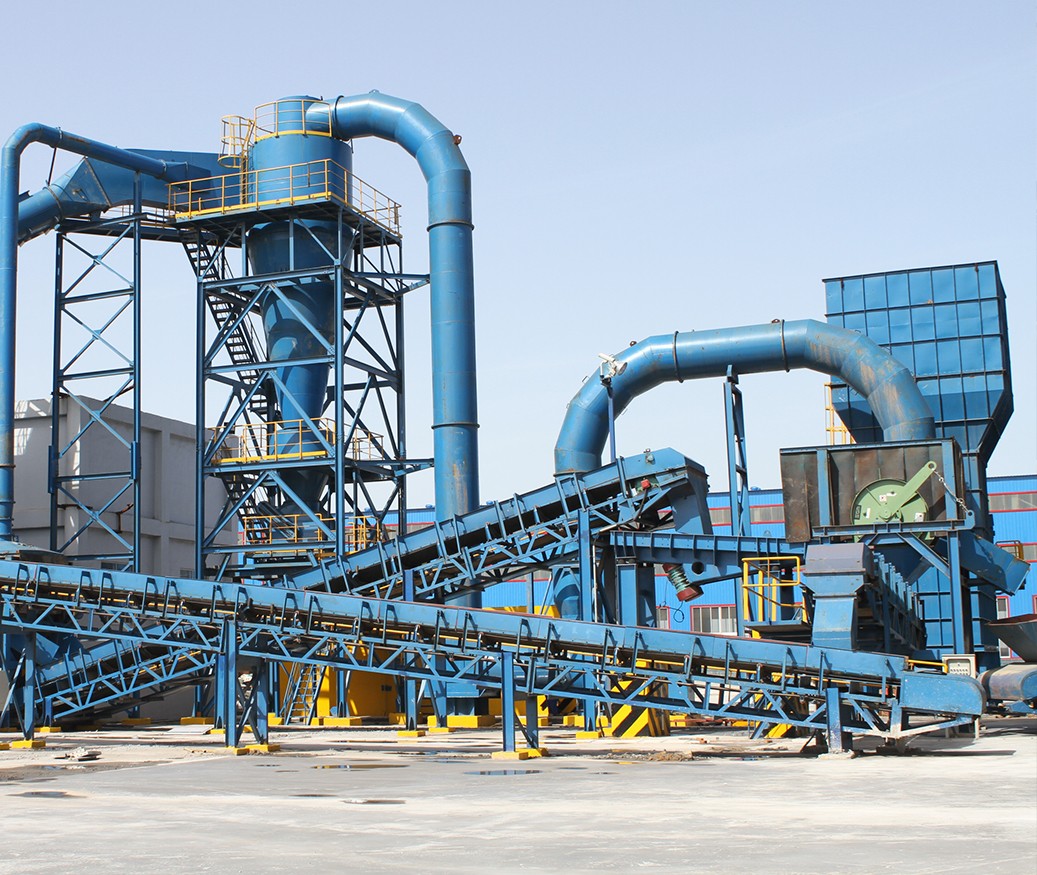 PSX-88104 Seires Site Shooting
Related product videos:
PSX 98104 (6000 HP) Site Video
LD PSX 5060 Shredder in workshop Al

LD PSX 5060 ShredderWrought aluminium Doors&Windows
PSX-98104(6000 HP)-Site Video
Hubei Lidi Machine Tool Co., Ltd. was founded in 1969 and has gone through three stages of development. Currently, it belongs to Tianqi Group (stock code: 002009). The company is located in Yichang, Hubei. It is a national key high-tech enterprise with 8 service subsidiaries located in Tianjin, Tangshan, Wuxi, Changsha, Chengdu, Guangzhou, Xi'an and other places. The company has more than 300 employees, of which 40% have a college degree or above, 10% have a master's degree or above, and 20% are professional and technical R&D personnel.
The company has long focused on the research, development, manufacturing and sales of environmental protection equipment manufacturing, and is committed to becoming the world's leading resource recovery and recycling system solution and complete set of equipment integrated service providers. The business covers five major sectors: scrap steel processing, scrap car dismantling, non-ferrous metal processing and sorting, comprehensive utilization of renewable resources, energy conservation and environmental protection, involving important industries such as steel, automobiles, non-ferrous metals, resource recycling, environmental protection, and many well-known domestic and foreign companies Formed a strategic partnership and enjoys a high reputation in the industry. Hubei Lidi's core sales equipment include: ELV car dismantling, end life of vehicle car dismantling, Scrap metal shredder, Scrap hammer shredder, Scrap metal shear, Scrap metal baler, Scrap metal pre-shredder, non ferrous sorting, Hubei Lidi strives for Under the guidance of the national "One Belt One Road" strategy, we will expand friendly cooperation globally, enhance exchanges, and discuss the "green development" plan.
In the future, Hubei Lidi will, under the leadership of a team with General Manager Li Mingbo as the core, take the path of joint, cross-border, and innovative international development. As always, we are committed to the implementation of complete sets of environmental protection equipment, intelligence, refinement, informatization, and harmless environmental protection, to promote the development and upgrading of the environmental protection equipment industry, and make unremitting efforts to build a "beautiful China" and achieve a sustainable future struggle.